Kaleseramik sheds light on future's architecture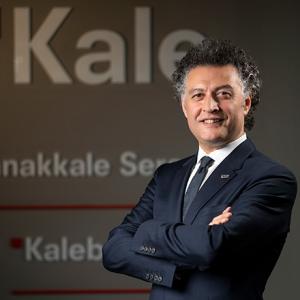 Kaleseramik, which pioneered the establishment of the ceramic industry in Turkey, was founded in 1957 in the Çan district of Çanakkale. It is the largest ceramic tile manufacturer in Turkey, the 5th in Europe, and the 18th in the world today. With its ripening targets, the company brings branded products to more than 400 export points in 86 countries from Europe to America, from Middle-East to African markets, offering 1,900 types of floor tiles in 50 different sizes, 2,200 types of wall tiles in 60 different sizes, and approximately 200 types of new products to consumers every year.
We spoke with Kaleseramik General Manager Altuğ Akbaş.
Tile International: What new developments will you be unveiling at Coverings?
Altuğ Akbas: Coverings 2023 is a very important exhibition that brings together global players in the ceramic industry, we will promote the newest collections of our brands, which are Çanakkale Seramik, Kalebodur, Edilcuoghi Edilgres, T-ONE, and especially Kalesinterflex, also will give our messages on sustainability to all participants in line with the 'Take Care of Your World' movement that we have started, #iyibakdunyana (take good care of the world).
Tile International: In terms of R&D development, what goals have you achieved and what future plans do you have?
A. Akbas: We are all proud of not only Kaleseramik's, but all Kale Group's success in R&D because we always see R&D as an important bridge that will carry us to the future. Today we carry out many projects such as waste prevention, and material and process improvements from raw materials to end products in line with the principles of sustainability as well as the design and development of innovative products that will guide the sector in our Kaleseramik R&D Center.
We are the first company in the world to invest in Kalesinterflex (porcelain ceramic slab) technology and start production with this technology. Thanks to the developments we have made by focusing on people, technology, and design; we have introduced many products to the industry by using the superior features of Kalesinterflex, Türkiye's thinnest, largest and flexible porcelain slabs, available in alternative sizes of 100x300 cm and 120x360 cm and 3mm and 5mm thickness.
Recently with the same technology we have developed the T-ONE products. Kalesinterflex is used in many different applications with a wide range of products such as kitchen countertops, bathroom furniture, tables in living spaces, and TV set stands.
With the increased areas of use, Kalesinterflex both paves the way for our industry and further strengthens our role as one of the most important players in the international arena.
Tile International: Are you excited for Coverings 2023?
A. Akbas: We see international specialized trade exhibitions as an important tool. These exhibitions bring together the buyers and sellers of the sector and fulfil a very important task for us both to promote our new products and to reach international consumers and professionals. By utilizing this feature of the exhibitions, we try to reach more people abroad and deliver our products to farther markets. Coverings is a very important exhibition where global players in the ceramics industry come together. That's why we are prepared extraordinarily for Coverings 2023.
As Kaleseramik, we believe that we will make a difference in this exhibition with our products that shed light on the architecture of the future, our special design stand and our theme of protecting the planet.
Tile International: Where are Kaleseramik main export market?
A. Akbas: We export over 100 million dollars of products to 86 countries. Kaleseramik's leading export markets are Canada and the United States which make up 30 percent of company's exports.
These countries are followed by Israel with 11 percent, United Kingdom with 8 percent, Germany with 5 percent, Pakistan with 5 percent, Iraq with 4 percent and Italy with 2 percent. Also, we aim to further increase our exports to the countries with strategic importance, and we continue to walk towards our goals with the same determination by the important steps we are taking. To expand in international markets; factors such as product range, high quality standards, and meeting the needs of international consumers play an important role. Being aware of this, we continue our efforts to establish regional offices that will carry out marketing and sales in America and Europe.
Tile International: What are the latest investments and can you tell us more about your ceramic tiles and sanitaryware production capacity?
A. Akbas: We implemented Porcelain Slab Factory with an investment of 34 million Euros in Çan district on the 27th of July, the Ceramics Day. In this factory, which we believe will make an important contribution to our production power; we will manufacture Matt/Gloss porcelain slabs with alternative thickness of 6 millimeters, 10 millimeters, 12 millimeters, and 20 millimeters, and sizes of 160x320 cm, 80x320 cm, 80x280 cm, 80x160 cm and 80x80 cm. When the porcelain slab line is put into operation, we anticipate that it will contribute 1.5 million square meters to the total capacity and 42 million USD to the annual turnover.
We manufacture in a single sector with 50 million square meters of production in 50 factories on a total area of 1.25 million square meters, including a covered area of 650,000 square meters, in the Çan district of Türkiye's western Çanakkale province. We have a production capacity of 22 million square meters/year of wall tiles, 15.1 million square meters of floor tiles 11.2 million square meters of granite ceramics and 1.6 million square meters/year of Kalesinterflex. Our factory, which is located in Türkiye's central province of Yozgat, has an open area of 562,000 square meters and a covered area of 24,000 square meters, and its annual production capacity is 6.2 million square meters of floor tiles.
Concerning ceramic sanitary ware (CSW), Türkiye is the biggest ceramic sanitary ware manufacturer in Europe with a production of approximately 22 million units, and it also ranks at the top as the country which makes the largest sanitary ware export in Europe with 8 million units. With our Kale Bathroom brand, we manufacture in our four factories established on a total area of 115,000 square meters.
The sanitary ware capacity of this production is 1.14 million pieces, and the bathroom furniture capacity is 84,000 modules.