RUBI solutions for laying
The origin of RUBI Group dates back to 1951 with the invention of the first manual hydraulic mosaic tile cutter in history and, since then, RUBI has worked with a firm objective: to facilitate and to improve the results of ceramic tile installation professionals.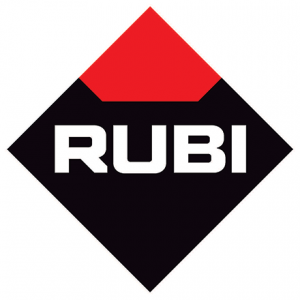 For this reason, RUBI guarantees high product quality, excellence, and innovation, which is reflected in the continuous improvement and launch of new products, always providing differential solutions to the new trends in the ceramic sector with more than 1,000 product references that cover the 5 phases of the tile installation process: preparation, cutting, installation, grouting and cleaning.
Through the RUBI Academy, the brand periodically develops multiple training projects with the aim of continuing to professionalise and specialise the sector. This international space offers high quality academic content in different formats: webinars, tutorials and training events.
RUBI, the leading brand in the ceramic tools sector, will be present at CERSAIE from 25th to 29th of September at stand A-1 Pavilion 31 where it will show some of its star products: the TX MAX and TZ range of manual cutters for cutting porcelain tiles up to 21mm thick and the range of electric cutters, together with the porcelain cutting blades, also for materials of 21mm thick and ideal for outdoor and landscaping jobs.
Finally, it is worth highlighting the new RUBI products designed with CAS (Cordless Alliance System) battery technology; an innovative multi-brand battery system that allows the professional to work with different machines using a single adaptable battery.
Also on display will be presented a new ergonomic curved trowel, created in partnership with SAINT GOBAIN WEBER, to optimise work by minimising effort and maximising comfort during the tile adhesive application on the substrate.