KALDEWEI, Ahlen, January 2023 – Kaldewei received the German Design Award 2023 for the freestanding OYO DUO bath. The design by the Munich design studio Diez Office was presented to the public for the first time at the Salone del Mobile in spring 2022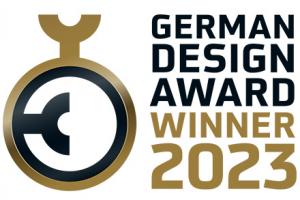 With the bathtub from Kaldewei's LUXSTAINABILITY® world, the bathroom manufacturer from Ahlen shows that luxury and sustainability go hand in hand in perfect form. The OYO DUO combines organic design with uncompromisingly durable materials.
The double-walled bathtub, inspired by Japanese porcelain design, comprises of 100 percent steel enamel. The recyclable and sustainable concept of the Meisterstück convinced the expert jury of the German Design Council, which has been presenting the German Design Award annually since 2012. With its global spectrum and its international appeal, it is one of the most respected awards in the design landscape across all sectors. Kaldewei received the award for the OYO DUO in the "Excellent Product Design" category.
Designer Stefan Diez has created a graceful design sculpture that integrates harmoniously into any bathroom.
"The design of the MEISTERSTÜCK OYO DUO is both modern and timeless The OYO DUO is not part of a fashion trend, rather it is the result of a process. It looks as if a liquid, flowing form has been frozen the moment it touches the ground," explains Stefan Diez.
The German Design Council honoured pioneering products and innovative projects at the German Design Awards - in the three award disciplines "Excellent Product Design", "Excellent Communications Design" and "Excellent Architecture". From more than 4,200 entries from 57 nations, "Gold" was awarded 98 times in 68 categories in addition to the awards "Winner" and "Special Mention" – the highest distinction of the award.
"Winning the German Design Award is a wonderful confirmation of how worthwhile it is to make the designers' vision a reality. The courage and performance of the Kaldewei team is honoured, as is the fine design by Diez Office," sums up Christian Büttner, Director of Innovation and Portfolio at Kaldewei.
Another exciting element is that the award-winning MEISTERSTÜCK OYO DUO is now available in selected colours from Kaldewei's Coordinated Colours Collection. It can be ordered in two sizes as of now.