"Happy Few" by Studiopepe for Essential Home
Referencing the inspiring Italian architectural landmarks through their sleek designs, Studiopepe has created for Essential Home a memorable collection that combines style, high-quality material, fine craftsmanship techniques with a touch of history. "Happy Few" quickly became one of the best-selling product lines for the brand, due to its organic feel and top quality. 
One of the biggest challenges that Studiopepe had to face when Essential Home invited them to create this collaboration, was to create a unique mid-century collection that looked innovative and different from what we have seen in furniture so far. One of the things that they had to avoid during their creative process was to not create a scenography scenario, otherwise the final result could be counter-productive.
"We noticed there are a lot of affinities with Italy here in Portugal, and that's is very interesting, the passion for Wood's Craftsmanship, the etching and other materials as the glass, the ceramic and so on." says Arianna Lelli Mami.
One-touch and one look, and you find yourself walking the streets of Italy, discovering the architectural beauty of the 30s and 40s. A different era that teaches and inspires some of the greatest artists in the world, was also what twinkled between Chiara and Arianna's eyes and moved them to create a collection so beautiful and elegant, that easily shines with stunning shapes that recall the grace of mid-century Italian architecture.
"Once you realize how the materials can be used, the technics, the processes, the care with which are produced, and all of the combination you can make, off course for creative people it is like to be in a Luna-Park.We have the chance to add value toward what you already do, that is our value." tells Chiara di Pinto.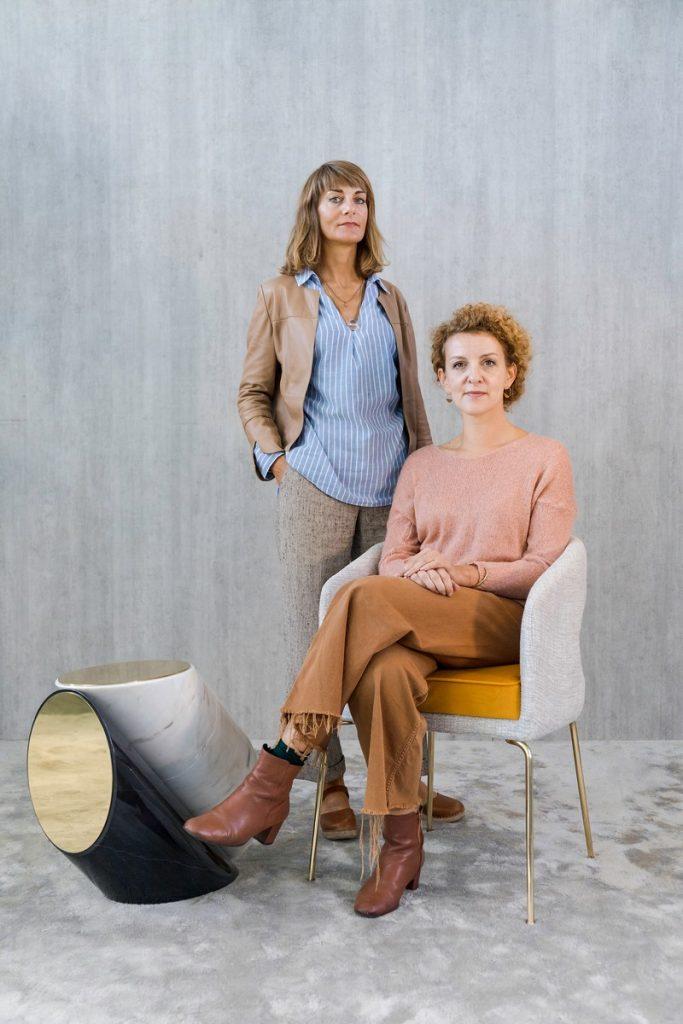 Fitzgerald Modular Sofa
As tight-living, multifunctional and flexible spaces in our homes became more popular, the perfect modular sofa can be the true shapeshifter. Rounded and oversized, with low backrest and a cockpit structure, the new version of Studiopepe's Fitzgerald sofa is modular in shape, color & design, providing individual comfort like no other. Keeping the same Italian architectural inspiration, the series of sectional sofas or modules can be arranged into practically every desired shape for any space. A brass shell hugs the sides and the lower part of the upholstery, giving it a defining structure that is hard to look away from. Anyone is able to configure and customize our Fitzgerald modular sofa to create the desired sleek and modern interior look.
Isadora Bar Chair
The Isadora dining chair has become one of the public's favorite pieces from the Studiopepe collection with Essential Home, so the designers decided to elevate the spark and create a sleek and modern bar chair that features the same symmetrical flair. The Isadora bar chair is an artistic furniture design that is upholstered with the finest velvet textile and features a minimalist brass base to complement the look. Providing comfort and style all in one piece, this bespoke bar chair shows off the best of luxury design with a modern twist, which is exactly what you need to bring an exquisite touch to your project.
Zelda Sofa
Keeping the same modern look as the single sofa, this Zelda sofa by Studiopepe is a three-seater piece upholstered in premium materials produced to last a lifetime. Also available in a bigger size, the bespoke Zelda sofa features a generously rounded outline through its entire structure and an oversize backrest with a signature central fold surrounding a soft and organic seat. This unique mid-century modern furniture piece by Studiopepe provides the best of comfort, functionality, and design.
 
Zelda Small Armchair
Also from the Zelda furniture line by Studiopepe, this exquisite small armchair is a reinterpretation of the classic cockpit armchair with soft and enveloping shapes that was perfectly designed for any living room, dining room, or even, bedroom vanity. Fully upholstered in Alpaca wool for a soothing touch, the unique small armchair design features a bespoke brass base to enhance the design, as well. Featuring a more standard seating arrangement, Zelda's backrest keeps the same rounded outline for extra comfort. Once again, functionality and style come together in one exquisite furniture design totally handcrafted with the finest Portuguese craftsmanship techniques.
Zelda Daybed
Featuring a sleek and modern design of the family, Zelda by Studiopepe is the first daybed to enter Essential Home's bespoke furniture collection. A daybed is such a dynamic and versatile piece of furniture that will work in many areas of your home design. This unique furniture design can have multiple purposes for all project, depending on the place where it stands. It can be a showpiece and an elegant seating option in your living room decor or a relaxed comfortable place to enjoy a nice book in the bedroom area. Daybeds can also help to create a welcoming statement if used as a piece for the entrance lobby, providing somewhere to sit or simply to place your belongings. Zelda's asymmetrical feature enhances its sculptural identity, while the bigger seat makes it even more cozy and comfortable.
photo credit: ©STUDIOPEPE/Essential Home