The Mirror of Wonders by Fabio Mazzeo Architects
The headquarters of the multidisciplinary firm led by architect Fabio Mazzeo surprises guests with a kaleidoscopic, reflective structure.
A contemporary installation and a Renaissance palace, in dialogue in Rome.
In the vast entryway of the 17th-century villa at 167 Via Giulia, a striking new reflective installation makes an impression on guests and visitors.
The effect is magnetic and almost unnerving. It is a mirror of wonders, something out of Lewis Carroll's famous and dreamlike novel, that guides you into an eccentric and visually stunning "other" world. Just like Alice's trip down the rabbit hole, it makes you suddenly believe in the impossible.
The large, mirrored wall surface, 4.5 meters wide by 4 meters high, is broken down into several sections, all of which move under their own power. The structure catalyzes the many angles and perspectives of the space in an interplay of constant reflections, re-situating unexpected fragments of the scene in a kaleidoscopic, shimmering image.
"As in all our projects, we worked with a tailor's approach, starting from the specifics of the setting to create a piece that could bring out the unique character of a space with such a strong identity. In the large 60-square-meter hall, empty space prevails over solidity. The hand- decorated walls depict a forest of Roman pine trees painted white on a silver leaf base, like a kind of virtual winter garden. We wanted to avoid overabundance and excess. That led to the idea of an installation that is neither authoritarian nor imposing, but rather a modern piece that can find a harmonious balance with its historic surroundings. It was designed and built to create a dialogue with the interior and to orient the gaze in space, rather than capture it," says Fabio Mazzeo, art director of Fabio Mazzeo Architects.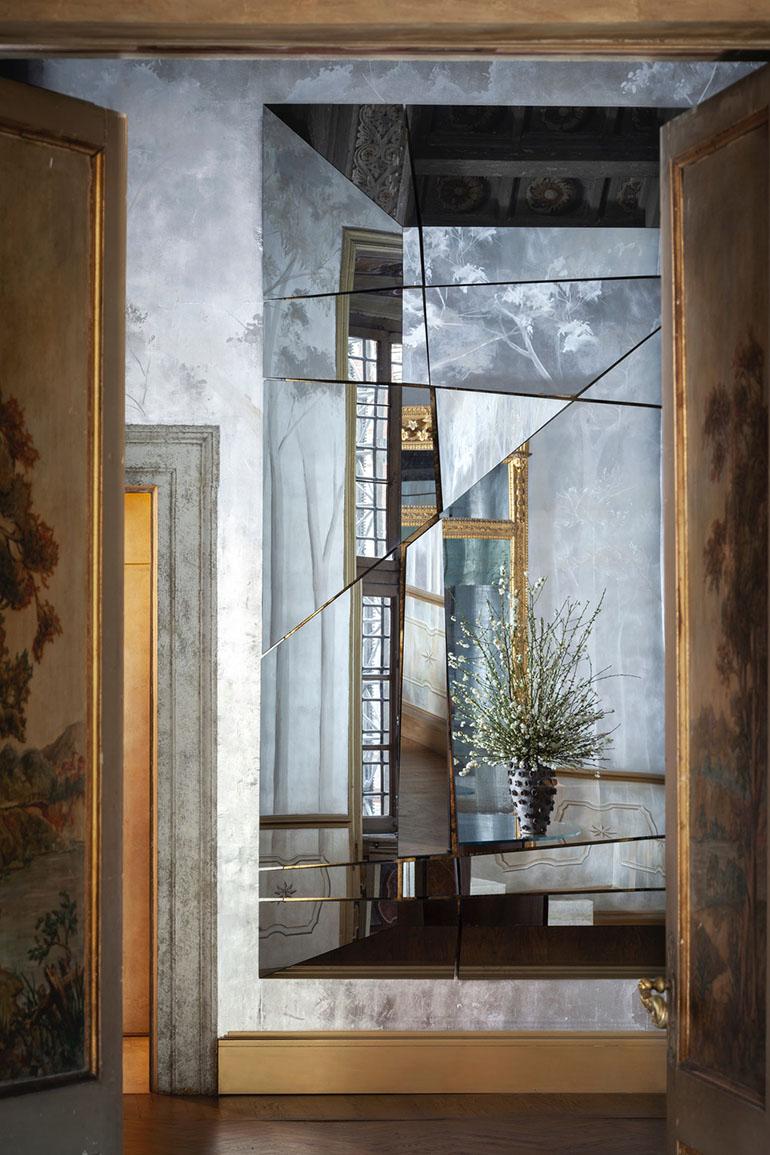 The installation faces and returns the image of another precious mirror from the Renaissance period: a mutually respectful stylistic coexistence between two works of art created 500 years apart.
Another prominent piece in the room, and part of the changing reflections, is an imposing sculpture table designed by Fabio Mazzeo Architects.
Aesthetic and functional at the same time, the installation is integrated with a monitor that uses mirror screen technology, which enriches the reflective surface with visual suggestions and is used by the team for presentations to clients.
The gold leaf-covered backdrop and back lighting bring out the fractures of the mirror, which is conceived as a semi-dynamic object.
The effect is almost one of an inner current, a pulsating underground energy: the same vibrations that animate the team at Fabio Mazzeo Architects. They are a true creative collective where every talent, under the careful and charismatic supervision of Fabio Mazzeo, is free to express themselves. This collective work is what shaped the installation, by involving artists, painters, and artisans who have collaborated with the studio for years, just like in a neo-Renaissance workshop.
Between art, architecture, and design, this is a piece that recounts Fabio Mazzeo Architects' way of being and designing, inviting us to cross a mirror: on the other side, we can imagine and experience new, exciting visions of beauty.