INSCA presents an exclusive Trends in Tiles and Materials Exhibition Guide 2024
INSCA, a company specialised in exhibition solutions for the ceramics and building materials industry, has launched the 15 Trends in Tile and Materials Exhibition Guide 2024. This resource was presented as part of its participation in Cersaie 2023, the international exhibition of ceramic tiles and bathroom furnishings celebrating its 40th anniversary in Bologna, Italy.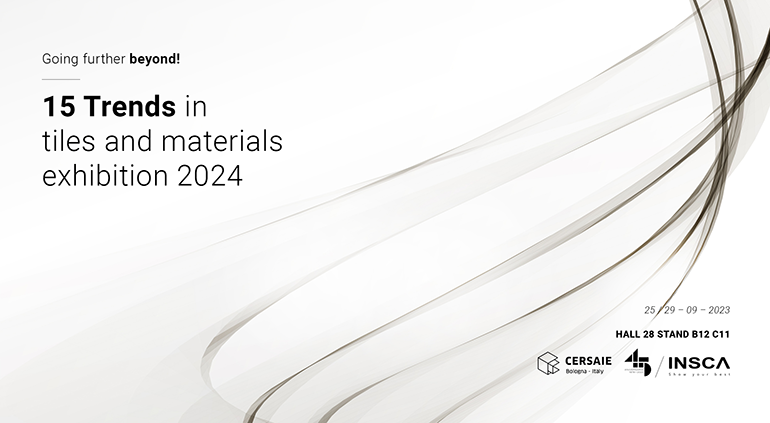 In an effort to go "further beyond", as expressed in their "Going further beyond!" campaign, INSCA has been noted for its commitment to innovation and excellence in the presentation of building materials. The guide is a testament to this commitment, as it offers companies in the industry a unique insight into the trends that will define the exhibition in 2024.
Designed to be at the forefront of the latest innovations in the industry, this ebook addresses 15 dynamic ideas that fuse technology with creative design and the creation of exhibition and point-of-sale experiences. From architectural treatments for displaying large-format plaques to the creation of living zones within retail outlets. In doing so, it provides ideas and inspiration to transform the customer experience.
Going further beyond!
The INSCA concept embodies the company's philosophy of not conforming to convention and going beyond common standards in product presentation. Accordingly, the stand is characterised by fluid curves that suggest a constant flow of movement. This visual representation evokes the dynamism of the constantly evolving tile industry and reflects the need for companies to move forward in a highly competitive environment.
"Going further beyond!" is not only about visual presentation, but also about a firmness that embraces the product in an immersive experience to deliver high value at every exhibition. This approach is reflected in INSCA's ongoing synergy with the market movement, where the company strives to exceed traditional expectations in product displays and seeks to create impactful, efficient and engaging visual experiences that help its customers increase their sales.
Ultimately, for those interested in keeping up with the latest trends in display, INSCA's 15 Trends in Tile and Materials Exhibition Guide 2024 is a must-have resource that points the way to an exciting future in the world of product presentation.
INSCA's location at Cersaie
INSCA is present at Cersaie with a stand in Hall 28 Stand B12 C11, where they present their proposals for the exhibition of building materials. Their focus on innovative designs, advanced technology and creativity in display development is reflected in a 221 m2 space that embodies the "Going further beyond!" philosophy.